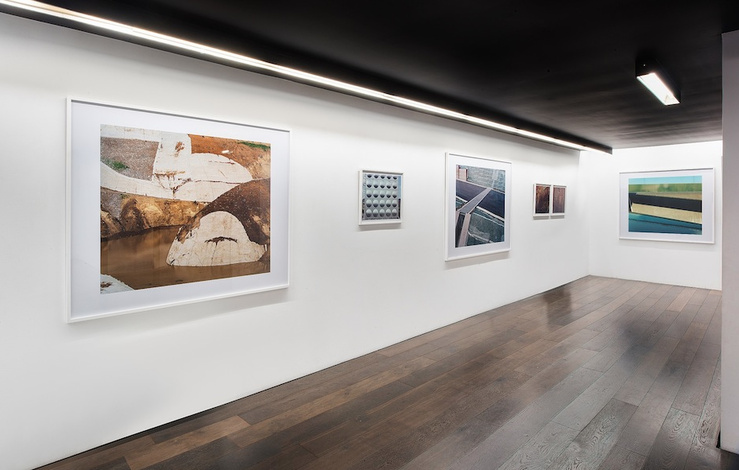 Toshio Shibata, The Abstraction of Space — Polka Galerie
Connu et reconnu dès les années 80 pour sa série sur le Japon Quintessence of Japan en noir et blanc, Toshio Shibata s'est depuis mis à la couleur. Quelle est l'âme des paysages de ce photographe qui sans cesse les prive de leur contexte ? La sienne, sans doute.
Toshio Shibata — The Abstraction of Space @ Polka Galerie from September 14 to October 26, 2013.
Learn more
Pas d'horizon, pas de ciel, les cadrages de Shibata offrent d'emblée le sujet privé de son échelle. Ses sujets, sans sujets d'ailleurs, sont le plus souvent des ponts, des digues, des cascades, sans humain aucun. Il y a quelque chose de troublant dans sa démarche, presque brutale, comme s'il voulait nous confronter à la matière de manière directe, frontale, sans recul et sans moyen de resituer l'objet photographié. Ainsi en est-il de certains barrages d'où coule l'eau. Ou de ces pans de murs dont on ne sait plus s'il s'agit de plusieurs ou d'un seul. Que regarde-t-on ? Plus on fixe l'image plus l'abstraction surgit.
Troublant donc, mais intéressant car sous nos yeux la matière se transforme et possède dans son potentiel d'abstraction une vertu picturale, faisant passer un médium pour l'autre. Ce jeu de balancier permanent
Ainsi, en donnant à voir des fragments du monde, bruts, Shibata semble vouloir offrir une vision pure et intime. Nous mettant nez-à-nez avec des bouts d'un bâtiment, il nous en interdit la représentation dans son ensemble. Serait-ce là une façon de dire qu'il n'y a d'abstraction que dans le détail du monde, dans ses recoins ?